Minnesota Tracking Program Reports
Life and Breath: Health impact of air pollution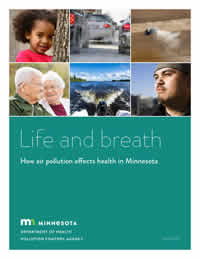 Minnesota's most vulnerable populations – seniors, the poor, people without health insurance and people with chronic health conditions are being hurt by poor air quality. Inequities like income, racial discrimination, education, and housing are major contributors to how health is affected by air pollution. Learn more in the 2019 report "
Life and Breath: how air pollution affects health in Minnesota
."
Hazards and Exposures
Central Sands Community Profile
Developed in response to health concerns of community members and, local and tribal health in a six-county region of North Central Minnesota (the "Central Sands" region) the Minnesota Department of Health Tracking and Biomonitoring Programs developed this community health profile.
NE Minneapolis Community Vermiculite Health Study
In this latest study, MDH is taking a closer look at whether Northeast Minneapolis residents, who were interviewed between 2001 and 2004 for the exposure investigation, actually experienced higher levels of asbestos-related diseases. NE Minneapolis Community Vermiculite Health Study 2014 (PDF)
East Metro Birth Outcomes
East Metro (Minneapolis and St. Paul) communities expressed concern about legacy perfluorochemicals (PFCs) contamination and adverse birth outcomes. This East Metro and Birth Outcomes report summarizes the analysis of vital records data for two key indicators: low birth weight and prematurity.
Chronic Diseases
Chronic Obstructive Pulmonary Disease (COPD)
COPD is the fifth leading cause of death in Minnesota, and an estimated 164,000 Minnesotans are currently living with it. There is opportunity for improved management of COPD. Over 44% of Minnesotans with COPD do not take any daily medication for their COPD and about 35% still smoke. Learn more about the Scope of COPD in Minnesota.
Cancer Facts and Figures (2015)
Cancer is not a single disease. It is a group of diseases that share in common the uncontrolled growth and spread of abnormal cells. Although the cause of cancer in an individual can only rarely be determined, scientists believe that the first steps in developing the disease is damage to a cell. The Cancer Facts and Figures 2015 (PDF) report covers the incidence of several cancer types in Minnesota, cancer disparities and lifestyle choices that can impact your health.
Economic Burden
Childhood diseases have substantial impacts on families and communities. To estimate the economic value of preventive actions, these reports demonstrate a method for using quality environmental public health tracking (surveillance) data. These economic burden reports document the economic cost of environmentally-related health conditions from current surveillance data and estimates the fraction that is attributable to environmental causes, and focus on environmental factors that are amenable to interventions. Using this approach, policy decisions and resources can be directed towards actions that have a measurable impact both in reducing childhood disease and saving money.
The Economic Burden of the Environment on Two Childhood Diseases, Asthma and Lead Exposure
Economic Burden of Prenatal Mercury Exposure in Minnesota

Find data, charts, maps and more on these all of the above topics at MN Public Health Data Access Portal.
Related Links