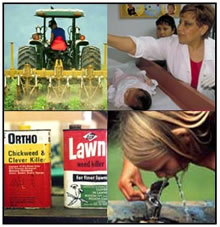 Pesticides
Pesticides are substances used to prevent, destroy, repel or mitigate any pest ranging from weeds to microorganisms. Pesticides help to control pests that spread disease, damage crops, and/or are a public nuisance. However, they can be harmful to the environment and to people if they are used improperly.
Many household products, such as disinfectants, cleansers, mildew removers, and ant and roach spray contain pesticides. Proper use of these products is important to ensure that you and your family are safe.
The lead state agency for regulating pesticides is the Minnesota Department of Agriculture (MDA). The Minnesota Department of Health (MDH) consults with the MDA, federal environmental and health agencies, and others to:
Provide information to the public about certain pesticide-related health topics;
Develop health-based standards and/or advisory levels for pesticides and other contaminants in groundwater and air;
Provide consultation to the Minnesota Department of Agriculture about pesticide health risks, and health risk assessment guidance/policy; and
Encourage efforts to prevent unnecessary exposures to pesticides and pests.
For more resources about safe pesticide use, please visit:
For Patients and Healthcare Providers

Additional Resources from our partners