Band Together Against the Flu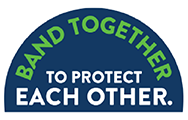 No matter who you are or what your style is, it's more important than ever this year to band together against the flu with a flu shot.
One arm at a time. One bandage at a time. Let's band together to control this year's flu - for all of us.

All bandage art created by Minnesota artists.
Add your own color and style to this year's flu response! And if you're feeling proud of your artwork, snap a pic and share with the hashtag #BandAgainstTheFlu